Bodylab Carbo Fuel (1000 g)
DEGVIELA TAVAM TRENIŅAM
Carbo Fuel ir paredzēts tieši tev, lai sniegtu nepieciešamo enerģiju un, lai katrā treniņā tu sniegtu vislabāko rezultātu.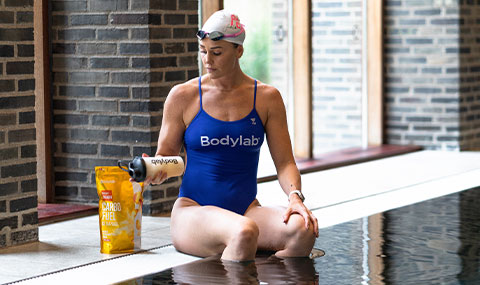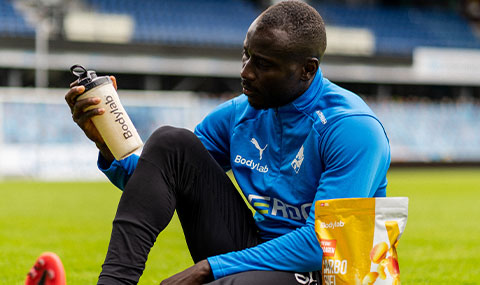 Mēs esam izstrādājuši koncentrētu formulu ātram un lēni absorbējamam ogļhidrātu sastāvam, kas piepilda enerģijas krājumus un izdala vienmērīgu enerģijas plūsmu, lai treniņa vidū tev nepaliktu auksti. Carbo Fuel ir ideāla degviela tiem, kas nodarbojas ar CrossFit, riteņbraukšanu, skriešanu, futbolu vai citiem augstas intensitātes sporta veidiem, kur ir nepieciešams papildu aprīkojums, kā arī tiem, kas vēlas uzlabot savu izturību.
Mēs esam pievienojuši dabiskos elektrolītus no svaigiem kokosriekstiem, kas palīdz uzturēt šķidruma līdzsvaru, lai treniņa laikā tavs sniegums nesamazinātos. Tas ir kaut kas pilnīgi unikāls, Carbo Fuel II tips satur locītavu kolagēnu, kas veicina skrimšļu elastību un tādējādi spēlē svarīgu lomu, lai tavas locītavas būtu veselas un labi funkcionējošas.
Ar tādām svaigām, vasarīgām garšām kā Pineapple Passion un klasisko Ice Tea Peach mēs uzdrīkstamies solīt, ka tu neatradīsi vēl foršāku un atsvaidzinošāku sporta dzērienu.
CocoMineral® - kokosriekstu ūdens ar superspējām?
Droši vien ne gluži…bet tā tik un tā. Nedaudz.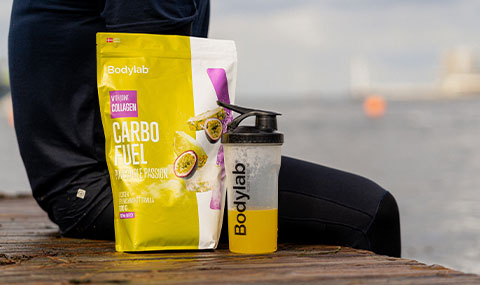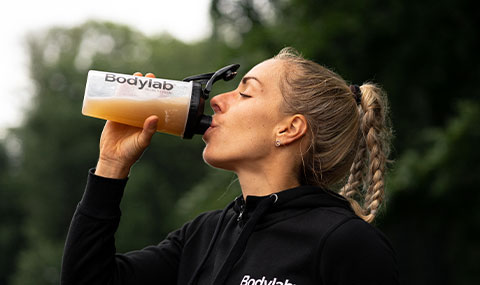 CocoMineral® ir svaigs kokosriekstu ūdens ekstrakts, kas satur svarīgos nātrija un kālija elektrolītus. Intensīva treniņa laikā elektrolīti izsvīst, tas ietekmē tavu muskuļu darbību, kas bieži izraisa krampjus. CocoMineral® ir zems tauku saturs, bet augsts cukura saturs, padarot to par labu enerģijas avotu.
Sajauc 50 g Carbo Fuel ar 500 ml ledus auksta ūdens un baudi pirms treniņa un tā laikā.
Uzturvērtība
| Uzturvērtība | 500 ml | 100 ml |
| --- | --- | --- |
| Enerģētiskā vērtība | 830 kJ / 200 kcal | 166 kJ / 44 kcal |
| Tauki | 0 g | 0 g |
| no tām piesātinātās taukskābes | 0 g | 0 g |
| Ogļhidrāti | 48 g | 9,6 g |
| - no kuriem cukuri | 5 g | 1 g |
| Šķiedrvielas | 0 g | 0 g |
| Olbaltumvielas | 0,5 g | 0,1 g |
| Sāls | 0,60 g | 0,12 g |
| Kālijs | 750 mg * | 150 mg * |
Sastāvdaļas
Maltodekstrīns, izomaltuloze, kolagēns, 1% sasaldēts kokosriekstu ūdens, kālija hlorīds, skābuma regulētājs (ābolskābe), sāls, saldinātāji (acesulfāms-K, sukraloze), krāsa (luteīns), dabīgs aromāts.
Delivery method

Country

Cost

Delivery Time

Omniva parcel terminals

Latvia

€2,00

Up to 3 working days

Lithuania

€2,50

Up to 4 working days

Estonia

€2,50

Up to 4 working days

DPD Pickup points

Latvia

€2,50

Up to 3 working days

Lithuania

€2,00

Up to 4 working days

Estonia

€2,50

Up to 4 working days

Venipak Pickup points

Latvia

€2,00

Up to 3 working days

Lithuania

€3,00

Up to 4 working days

Estonia

€3,00

Up to 4 working days

Venipak - contactless courier delivery

Latvia

€2,00

Up to 2 working days

Lithuania

€2,00

Up to 2 working days

Estonia

€2,00

Up to 3 working days

FREQUENTLY ASKED QUESTIONS
How soon will I receive my order?
After receiving your payment, we will send the order on the same or next business day.
Usually delivery with Omniva parcel terminal takes up to 2 working days. Venipak, in turn, delivers orders the next business day after receiving them from our warehouse.
How can I get free shipping?
If the amount of your order is over € 29 (VAT included), we will deliver the order free of charge, regardless of the type of delivery you have chosen.
How can I track my order?
You will receive an order dispatch confirmation e-mail with the order tracking number and a link to view this information.
If you want to follow the shipment, please come to us on the order tracking page and enter the order tracking number you received in the email.
Where can I find a list of current Omniva parcel machines?
Please visit Omniva homepage, where you will be able to find all parcel terminals to which we can deliver orders in Latvia, Lithuania and Estonia.
Will the courier contact me before arrival?
Yes, before the order is delivered, the courier will contact you by the phone number you provided in your profile.
I received damaged / incorrect goods. What should I do in this situation?
In these rare cases, please contact us by email or phone and we will make sure the situation is resolved as soon as possible.
Please also visit Return page for general information.
MakeCommerce - VISA / MasterCard / Maestro, Swedbank, Luminor-Nordea, Citadele (instant processing)
Paysera - Swedbank, SEB, Luminor-Nordea, Citadele (instant processing)
PayPal (instant processing)
Bank Transfer (up to one business day)
If the bank transfer is your chosen method of payment, then you will receive a proforma-invoice immediately after placing the order with the correct amount and VAT, as well as instructions. Don't forget to mention your order order ID - this will make order processing faster.
Company name: SIA PRO
VAT number: LV40203007249
Account number: LV58PARX0020962040003
Bank name: JSC "Citadele banka"
We will place an order as soon as we receive the money in our account, but you can also send us a screenshot or other proof of sending the money to our account. Send it to info@vitamins.lv.
Remember that a bank transfer may take 1-2 business days. As soon as it is confirmed, your order status will change to "paid".
Promo and discount codes do not work with promotional items and items displayed at a reduced price. Gift cards can always be used.